Any questions? Call us at 734-845-0079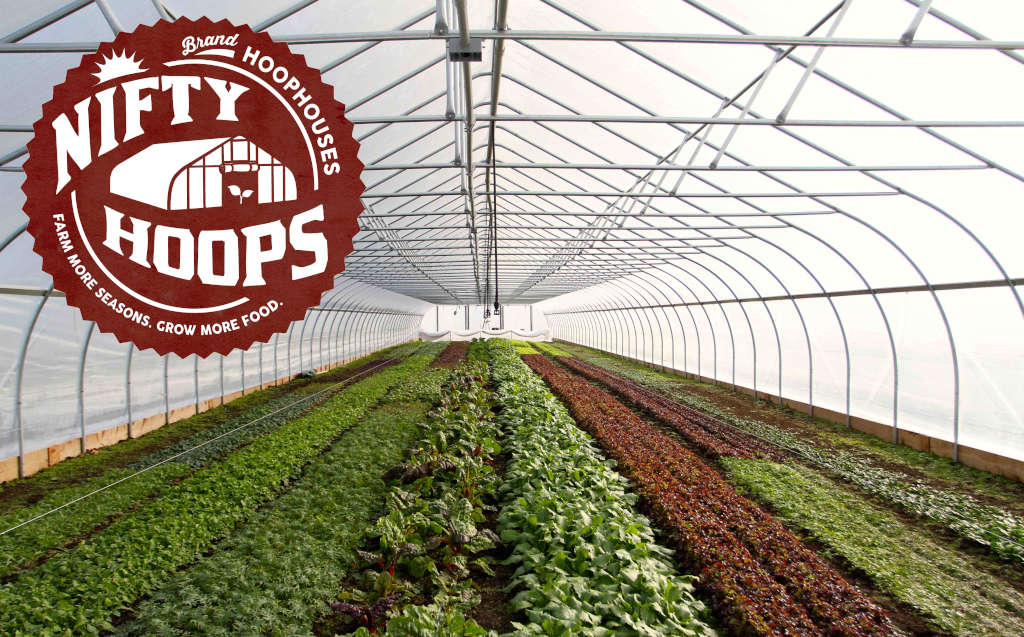 30' Gothic Hoophouse
Nifty Hoops' flagship structure, these 30' wide gothic high tunnels can be built from 24' to 192' long. They provide the strength to withstand northern winters and the features to make growing in them a pleasure.
Installation Options:
Starter Build — Our lead builder will start your install with you and set up the build for you to complete, or direct your workforce in installing the hoop. We bring specialized tools to pound and laser-level your groundposts and get your project off the ground. We also support you with detailed videos of each step of the build.

Community Build — We'll work with your CSA membership, neighbors and friends in an old-style barn raising type event.

Full Installation — We can build your hoophouse for you. We usually finish these in one day!
HIGHLIGHTS:
Strong - Triple gusseted cross-braces span every interior bow and stretch 22' across the 30' structure. While creating a strong house for our northern climates, these braces also integrate with our overhead irrigation and plant trellising system, creating a quick and easy way to train tomatoes, cucumbers and other vining crops.
Rugged - Our Gatorshield galvanized tubing and strong woven poly end-wall and rollup panels are built to last.

Grower-friendly - The 6' side-wall height provides complete perimeter walk area and easy access to the complete growing footprint.

Accessible - Our end-wall design incorporates a hinged door for daily and entry and two large equipment access panels that give you cost effective and easily-winterized doorways.

Automated louver ventilation - we have incorporated our low-voltage/low-energy-use louver motors as standard equipment on our hoophouse installations. Say goodbye to industry standard louver motors that use power to stay open, hour after hour, day after day. We are the first to market with a low-voltage louver system that uses only pennies per year, standard on every hoophouse.

Many other features, including double layer poly with low-voltage/low-energy-use inflation blower and roll-up sides with baffled ends.
STANDARD FEATURES:
Allied Gator-shield galvanized steel tubing

1.660" diameter - 13 gauge ground posts

1.660" diameter - 14 gauge bows

1.315" diameter - 16 gauge purlins and wind braces

Cross brace package - triple gusseted (1.315" diameter - 16 gauge, every interior bow)

Wind bracing in every corner (12 diagonal braces in total)

Poly-lock package

Double aluminum quick-lock (@hip) with cam inserts

End bow and end-wall aluminum wire-lock channel and wiggle-wire

Durable woven poly roll-up ventilation curtains (both sides)

Roll-up sides include 5:1 geared roll-up operators, 4 baffled end panels (provide poly overlap at roll-up panel ends), roll-bar cradles and wind ropes individually tied every 12'

Double layer inflated poly cover - Ginegar 5-layer 6-mil 4-year clear over SunClim film (IR and diffusion properties)

End walls:

double purpose end wall configuration that maximizes utility by placing year-round "people access" at the main entry end and two 8'x'8' equipment access doors at both ends

1.5" square steel assemblies, laid out to accommodate ventilation and door openings

11-mil woven end-wall covers with two velcro door openings (8'x8')

Hinged door - one 1 3/8" x 3' x 6'8" foam core foam core solid entry door with latch set

End wall ventilation: two 48" aluminum end wall louvers (with our unique low-voltage/low-energy-use system - 12V DC linear actuator motors and low-voltage thermostat controls, wire complete through our conduit system and ready for your electrical connection)

End-to-end conduit system - 1" PVC and fittings - for louvers and misc electrical functions

Baseboards - 2x10 SPF (untreated - meets organic certification criteria)
Overhead irrigation
Two overhead irrigation lines attached to the tops of your crossbars. Each can be run independently.
Drip irrigation kit
Includes drip tape, header, valves, pressure reduction & filter, basic fittings — installed by grower after the build
Automatic side ventilation
Upgrade roll-up side curtains to automated/motorized (both sides, includes thermostatic control)
Trellising supplies
Roller-plast spools for tomatoes and other crops, support wire, tomato clips
Polycarbonate endwalls
Polycarbonate endwalls and sliding doors, replacing woven poly endwall cover
Full roll-up endwalls
Increase end-wall access with wide roll-up panels - 8' high x 22' wide open end-wall access. Includes removable end-wall framing posts when accessing full unobstructed width, and our 5:1 geared roll-up crank for easy open and close operation. Fully installed.
Solar power
Complete 200W / 12V solar package: Upgrade the standard build to include (2) 100W 12V solar panels with (2) deep cycle batteries and charge controller/battery management. The 200W charging capacity of this system keeps you powered through long winter nights. The system powers, and includes, low voltage louver motors and low energy use inflation blower system. Fully installed. Can also power the automated side ventilation upgrade listed above
Note: While this solar package is generally more than capable of powering our low voltage/low energy hoophouse components, there is no guarantee that it will meet your total energy needs throughout the year. Local weather and site conditions, shading from buildings or trees, and your actual energy use will determine if additional panels and/or batteries are required.